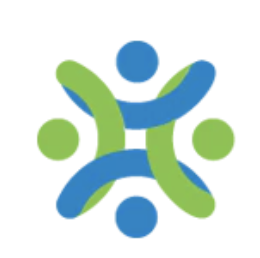 Do you

really

know how your

students are doing?
As a former elementary and middle school teacher, I still often think about the frenzy of a typical school day – arrival, instruction, intervention, test prep, dismissal all flew by in flash. Often, I would get to the end of my 12-to-14-hour day and list the students that needed a check-in. If I had connected with Eli this morning, would he have participated more in math class? If I had checked in with Aylah after recess, would her afternoon have been smoother? I left every school day with a litany of "what ifs," always overwhelmed with the lack of time to meet the needs of my students.
An easy-to-use tool like Educator Impact's ei Pulse would have transformed my classroom.
Quickly Check-in with Students
"With ei Pulse data, teachers are shifting the conversation from 'I saw you looked sad in class today' to 'you said you're not feeling ok today' [which is] less of an assumption and more empowering." - Kylie Power, Deputy Principal, Iona College

ei Pulse's intuitive interface allows teachers to check-in with students in less than 60 seconds. The first question, "How are you doing today?," gives students the chance to honestly assess their emotions and ask for help if needed. The next five questions ask students to reflect on their experiences related to identity, culture, health, and participation at school, at home, or in the broader community.
Question 1 is the only question that is tagged to an individual student name; answers to the remaining questions are anonymous. Teachers can use the Pulse dashboard to identify how each student is feeling and look at trend-level data to inform SEL programming and foster a positive school culture.
The beauty of Pulse is how quickly and easily teachers can gain information about each student's well-being. Unlike other SEL curricula and assessments, teachers can find one minute to leverage Pulse in their classrooms, and principals or other school administrators can easily view school-wide data to identify opportunities to strengthen their school's climate.
As a teacher, the ability to know how each student was feeling before the school day started would have given me the knowledge to personalize my student interactions based on individual need.
"What I love about ei Pulse is that I can see where every single student in the school is at. Now I think that is so powerful for any principal." - Dr. Nicole Archard, Principal, Loreto College
Gain Research-Based Insights
"Having data more often allows us to make more intentional changes and choices, and then we can see the impact of that through data, it has been essential. …ei Pulse helps identify and target the competencies and skills we want to build in our students and helps us understand if we're being successful." - Emma Mac, Principal, LEAD South East
The questions in ei Pulse stem from the well-being framework created by the Australian Research Alliance for Children and Youth (ARACY) and also map to the Competence Areas and Key Settings within the CASEL (Collaborative for Academic, Social, and Emotional Learning) framework.
The Competence areas (the CASEL 5) are elements of a student's SEL toolbox, whereas Key Settings are locations or environments in which that toolbox can be deployed.
Pulse reinforces the CASEL 5 for students, by asking them to reflect on the competency areas in the context of their own experiences. Pulse also provides valuable information for schools, allowing them to understand their students' experience of the school and its community through the lens of the CASEL. Questions will often touch on different elements of the CASEL Five. For example, the question "I take good notes during school lessons" has elements of Self-Management, Self-Awareness, and Responsible Decision Making.
Pulse comprises 211 questions across primary and secondary school versions. Of those 211 questions, the tables below indicate the number of questions that align to the CASEL Competence Areas or Key Settings.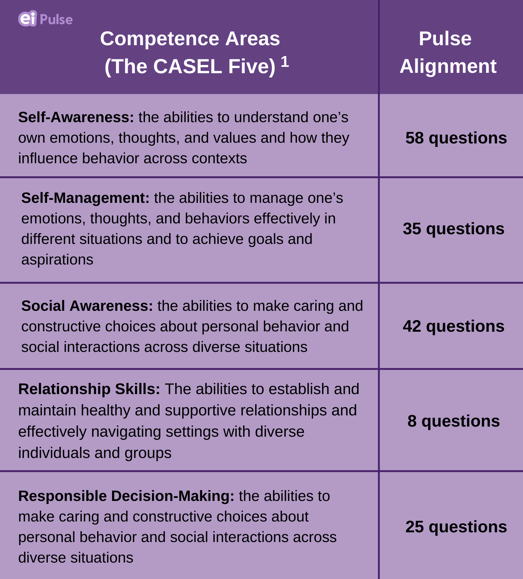 1 What Is the CASEL Framework? - CASEL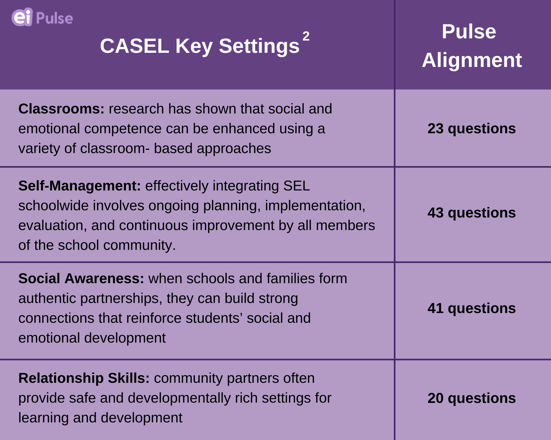 2What Is the CASEL Framework? - CASEL
In addition, Pulse measures many elements of the student experience that lie outside the CASEL Five, including:
Access to necessities such as food and transportation
Bullying

Stability at home, including parental/caregiver support for their education

Experiences of discrimination
CASEL's research-backed framework provides guidance for educators on specific skills and competencies necessary for social and emotional development and growth. As a teacher, the longitudinal data points would have highlighted specific competencies I needed to target in my lessons to meet my classroom's needs.
Empower Students
"I love those sixty seconds that I get to actually think about how I feel. It's a time I can be honest with myself. Plus, asking for help or having a face-to-face conversation can make kids feel intimidated or embarrassed." –Anonymous student
Leveraging small moments for students to practice advocating for their personal needs empowers students with the habits and toolkit to understand and communicate their emotions. Pulse provides the opportunity for students to assess how they're feeling and then, if needed, request help from a trusted adult in the building. The simple acts of self-reflection and self-advocacy enhance students' development and growth and support students on their journey to become their own champions.
A tool like ei Pulse would have allowed me to proactively support my students' individual well-being. With a quick "pulse check" and research-backed insights, I know I could have created a classroom environment that fostered a positive school experience every single day for students like Elia and Aylah.
---
For more information about how you can use ei Pulse to support student well-being in your classroom, visit us at www.riversideinsights.com/eipulse.
Your Expertise + Our Insights = Limitless Learning
Let's Elevate Potential Together