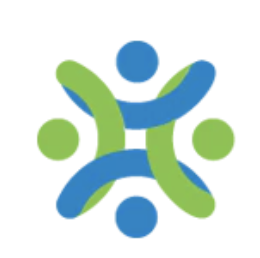 "All children have within them the potential to be great kids. It's our job to create a great world where this potential can flourish." - Stanley Greenspan, MD
Social-emotional learning (SEL) is arguably the hottest education topic in the 21st century. Yet, recently, it has become over-generalized, over-used, and, even sometimes, politically charged. We must return to the core purpose of SEL and remember why SEL is critical for our students' success.
Let's take a moment to reflect on why SEL matters and how we can practically incorporate it into each student's learning journey.
With the CARES Act, the ARP Act, and changes to ESSER funding, the Department of Education has placed a significant priority on assisting US educators as they strive to overcome the disruption caused by COVID-19. Social-emotional learning (SEL) and student well-being have been at the forefront of this recovery effort.
The State of Mental Health in our Youth
The statistics about student well-being coming out of the pandemic are quite alarming. The Center for Disease Control recently released research on the impact of COVID on mental health for children and teens, illustrating the significant toll the pandemic took on our youngest populations.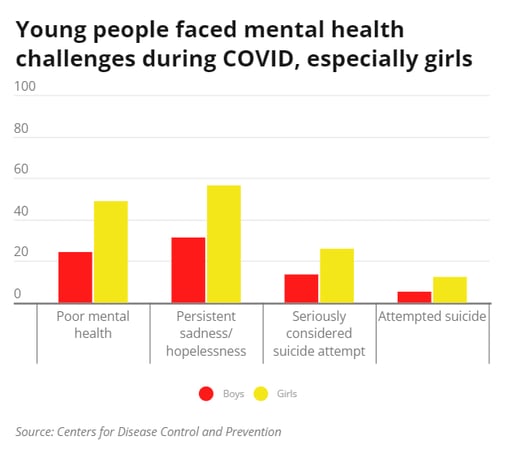 According to the sample, 37.1% of students reported experiencing poor mental health during the pandemic, and close to half of children said they felt hopeless or persistent sadness. Even more troubling, 19.9% of young people seriously considered a suicide attempt during COVID, and 9.9% of students, on average, tried to take their lives.
Prior to COVID, the CDC also reported a 60% increase in suicide rates for ages 10-24 between 2007 and 2018, and the National Center for Health Statistics portrays the widespread toll of suicide for ages 10-24 in the map below.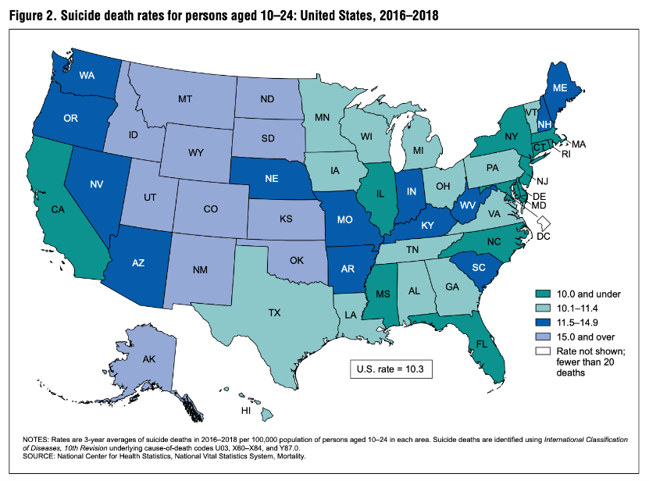 Nationwide, the pandemic took a substantial emotional toll on our youth. School closures and remote learning left students without community and connection, and many students felt the weight of family members losing jobs or getting sick. Children of all ages are facing record high levels of stress, anxiety, and depression, impacting physical and academic well-being and creating roadblocks for students to reach their highest potential.
What is Social Emotional Learning?
According to the Collaborative for Academic, Social, and Emotional Learning (CASEL), "SEL is the process through which all young people and adults acquire and apply the knowledge, skills, and attitudes to develop healthy identities, manage emotions and achieve personal and collective goals, feel and show empathy for others, establish and maintain supportive relationships, and make responsible and caring decisions."
CASEL outlines a research-based SEL framework complete with five core competencies – self-awareness, self-management, responsible decision-making, relationship skills, and social awareness – in four key settings – classrooms, schools, families & caregivers, and communities. This framework provides the structure to guide the social and emotional development of individuals and communities.
How does SEL support student growth?
At its core, SEL gives students the tools to become the best versions of themselves. A strong SEL program teaches students how to intentionally define and respond to their emotions, which empowers students with increased self-control, self-awareness, and emotional intelligence. SEL helps students develop empathy and responsibility, encouraging students to deepen their understanding of others and become more active participants in their communities. SEL provides a positive, constructive lens for students to view themselves and the world around them, teaching them to regulate their own emotions, engage in productive relationships with others, and connect to their inner confidence and strength.
Incorporating these skills into a student's educational experience catalyzes academic and personal growth.
Make it Practical
So, what can we do to support our youngest generations? A simple model of building connections between students and teachers, collecting weekly pulse checks on student needs, and providing targeted instruction ensures that educators can consistently magnify student voices and respond to student needs.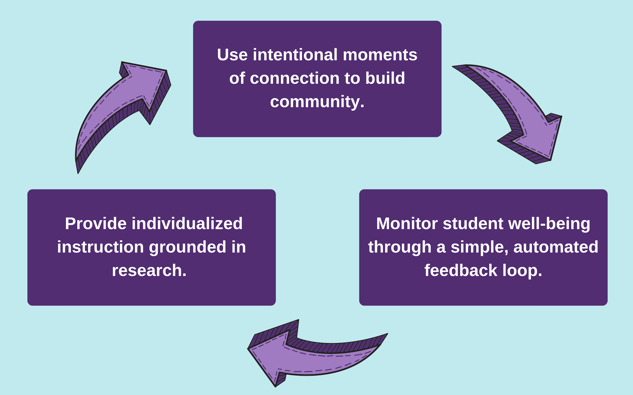 Byron Sanders, President & CEO of Big Thought, writes in Forbes that "SEL is power." He's right. Social and emotional learning gives children the foundational tools to unlock their academic, creative, artistic, and physical potential. Strong SEL is the crux of a robust educational experience that opens doors for students and helps all children thrive.
……..
Riverside Insights is proud to offer a comprehensive suite of solutions to help educators understand and support the instruction of the whole learner with insights into a student's potential, performance, progress, and overall well-being. We are excited to expand our commitment to SEL and well-being with recent additions to our expansive portfolio: Educator Impact's ei Pulse and 7 Mindsets' Lessons for SEL – two solutions that help educators understand student needs and personalize learning to support each student's social and emotional growth.