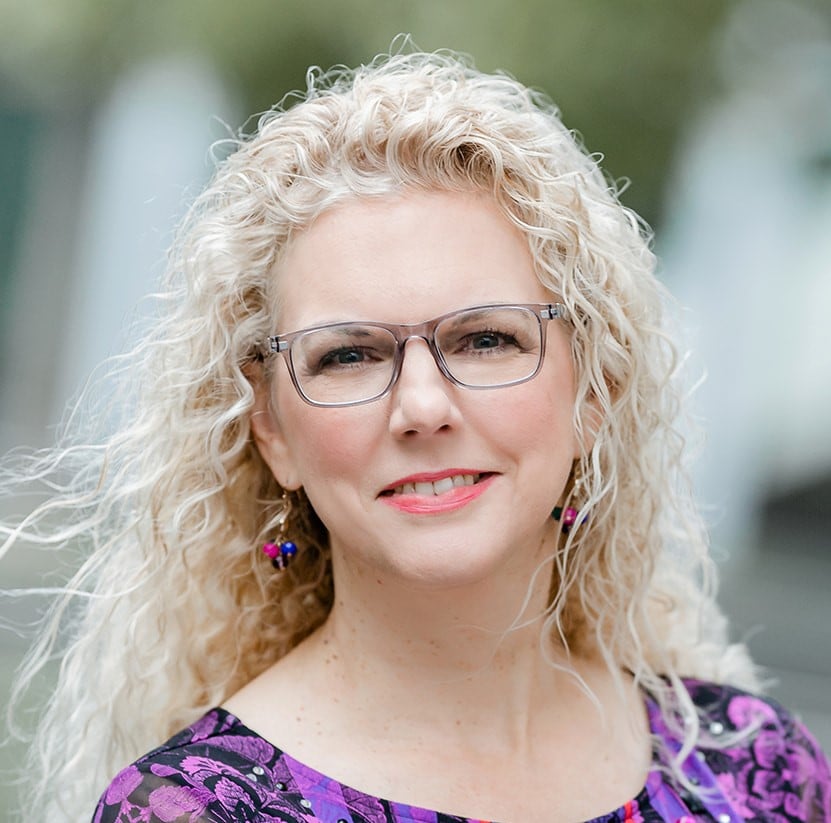 "While assessing students and identifying them for appropriate instructional services is important, what we as educators do after that is even more crucial for the students' success and growth."
It's been a while since I attended graduate school, but there are some things that stuck. While explaining about different assessments and gifted identification protocols, Dr. Sally Dobyns cautioned us that educators can put too much focus on identification and not enough on what to do with the students after you find them. Then she shared this quote attributed to Dr. Joseph Renzulli: "You don't fatten the calf by weighing it." At the time, it had little meaning as I was a teacher of the gifted and I had no budget with which to fatten anything. But it stuck.
Attend any conference, search the web, or visit just about any district and the hottest topics on gifted education are identification and finding students in underrepresented populations.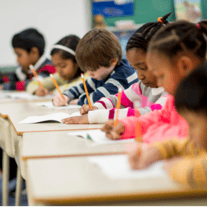 While identification is an important topic and a challenge that needs a solution, we often spend most of our time and resources on finding students and not providing quality curricular interventions for them. In fact, many educators notice that their gifted students make less academic growth than other students. With mandates to provide gifted identification – especially equitable opportunity – how do you ensure that you have the systems, processes, and programs in place to actually help grow the students?
Recently, Professional Learning Communities (PLCs) in K-12 schools seem to have gained momentum and provide a valuable forum to impact student growth. In each PLC, members address four questions:
What do we want students to learn?
How will we know when they have learned it?
What will we do when they don't learn it?
What do you do when they already know it?
Unfortunately, getting to question 4 is a struggle and classroom teachers often haven't been resourced to address it – especially with high-stakes testing and addressing the impact of Covid on student growth. Additionally, teachers are stretched for time. Providing the CogAT Ability Profiles™ can make that process more efficient and more effective.
Knowing a student's learning profile supports the teacher's successful planning for how to have the student interact with new learning as well as demonstrate mastery. For example, the profile for a student with a relative strength in verbal ability encourages the student to use that strength when working in other domains such as mathematics. At the elementary level, that may mean practicing math facts aloud or answering questions orally. Conversely, the profile for a student with a relative strength in the nonverbal domain, stronger in visual-spatial reasoning, suggests the student may prefer to show their thinking and learning with visual models. Elementary students likely would benefit from using manipulatives, and secondary students may gravitate toward science labs that allow for the kind of investigation that provides manipulation. Additionally, secondary students should monitor their response to strategies to identify which ones work best for them.
Another option is using a Differentiated Learning Plan. Think of it as a GT IEP without the federal mandates. Providing a "one stop shop" for student information, learning style, cognitive strengths, and academic performance also helps the teacher better know the students. The DLP should include recent achievement testing data, CogAT results along with the students' Ability Profile code, and recommended instructional strategies. Include the student in the DLP planning so she has a better understanding of how she learns and what targets are appropriate for her to achieve. Students should contribute to their goal setting, too. Garnering their support means they own their learning and move away from externalizing their success or lack thereof.

Leveraging other campus or district priorities can help campus leadership understand that meeting the instructional needs of high-ability and/or high-achieving students isn't just imperative for them. It's imperative to ensure the teachers are equipped to challenge all students. You can easily implement some "good for all and necessary for gifted" strategies such as Depth and Complexity icons which open doors for all learners to think at higher levels. The Depth and Complexity icons tap into the natural strength of the visual learner. Also, they provide a common language and system of thinking for all grades and all students which lowers the mental load during learning. For example, using the icon for Multiple Perspectives, which asks the thinker to look at a character, situation, or even a problem from different angles, leads the learner to immediately ask himself "what other perspectives exist and why?", "what opinions are formed and how?", and then make inferences based on more than one way of thinking. This way of thinking is clearly more complex and it sets the learner up for mastery of the content.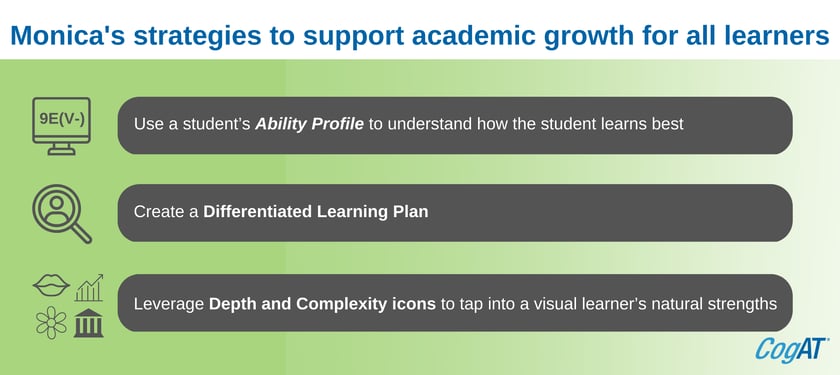 While assessing students and identifying them for appropriate instructional services is important, what we as educators do after that is even more crucial for the students' success and growth. By using CogAT Ability Profiles to drive planning and conversation for student learning whether it is for a Differentiated Learning Plan or embedding Depth and Complexity thinking into the learning process, we become more effective and more efficient at our craft. Austrian-American educator and author Peter Drucker, an authority on management, says it well: "Efficiency is doing the thing right. Effectiveness is doing the right thing." CogAT Ability Profiles help us all do both.
Click below to learn more about Monica's groundbreaking program
MONICA SIMONDS, M.Ed., is Director of Advanced Learning Programs and Services in Richardson ISD located north of Dallas. After receiving her Master's in Gifted Education, Monica taught gifted children in all grades and provided professional learning opportunities for the districts. She is a member of the National Association for Gifted Children and a board member for the Texas Association of Gifted and Talented. She presents on gifted education topics such as leadership, equity, change, program design, and instructional design. She has published a book and contributed to a chapter in another as well as multiple articles. Monica is the 2017 recipient of the NAGC Gifted Coordinator award and the 2019 TAGT Administrator of the Gifted award.