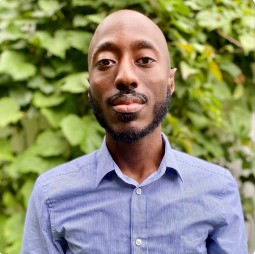 In the context of early childhood development, the COVID-19 pandemic has raised concerns for early childhood professionals related to educational equity, social-emotional functioning, academic achievement, and caregiver/family well-being.
Many practitioners are seeking ways to intervene on behalf of students to support their reintegration into in-person academic programming. To effectively intervene on behalf of students, practitioners require a reliable tool which assesses domains pertinent to academic success.
The Woodcock-Johnson IV Tests of Early Cognitive and Academic Development (ECAD®; Schrank et al., 2015) is a quick-to-administer and developmentally appropriate measure adapted from trusted Woodcock-Johnson IV tests. It serves as a holistic measure of early childhood functioning. The ECAD® assesses emerging cognitive, academic, and expressive language skills and provides critical information for early childhood practitioners looking to target areas of student need.
When paired with the WJ IV Interpretation and Instructional Interventions Program™ (WIIIP®), practitioners can generate comprehensive reports combining qualitative reports from parents and teachers with data culled from their assessment. These reports can also provide evidence-based instructional interventions and recommendations to address identified problem areas.


Overview
The ECAD® was released in 2015 to serve as a special-purpose battery for practitioners seeking to assess the cognitive and academic skills of young children (2 years 6 months through 7 years of age). The tests were designed to be visually appealing and engaging for the examinee, while also being easy to administer. The selective testing model of the ECAD® allows tests to be administered in any order, providing flexibility in assessment which is beneficial for young children. This allows the examiner to provide variety in task presentation to maintain examinee interest. The flexibility in ECAD® assessment also allows the examiner to provide breaks for the examinee and administer tasks across multiple sessions to minimize fatigue. The time to administer for the ECAD® is approximately one hour for the full battery. The examiner can also choose to administer as many tests within the battery as they desire based on their assessment needs.
ECAD® Tests and Clusters: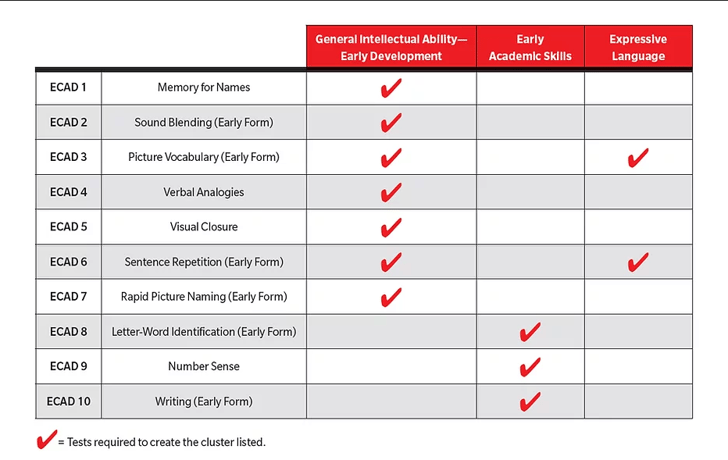 Assessment of Cognitive Functions
With the ECAD®, the examiner has access to seven tests which contribute to an overall General Intellectual Ability composite. These tests span a breadth of cognitive functions including long-term memory and retrieval, auditory processing, comprehension-knowledge, visual processing, short-term working memory, and processing speed.
Assessment of Early Academic Skills
The ECAD® also yields an Early Academic Skills Composite, which is comprised of measures assessing foundational reading, writing, and mathematics skills. These include print awareness and letter-word identification, number sense, and pre-writing and spelling.
Assessment of Expressive Language
Expressive Language functioning is measured using two tests of the ECAD®. These tests measure oral language development and word knowledge, in addition to auditory memory span and listening ability.
Comprehensive Analysis of Functioning
When a practitioner pairs the ECAD® with the WJ IV Interpretation and Instructional Interventions Program™ (WIIIP®), they gain access to comprehensive reports. These reports can be paired with various checklists (e.g., reason for referral, classroom observation, and parent- and teacher-report forms) available to WIIIP users. Practitioners can integrate important qualitative accounts from these checklists with the data garnered from their assessment. The comprehensive reports available to WIIIP users further offer instructional recommendations and interventions that can be used to guide educational planning. A list of recommendations and interventions are automatically generated when running a comprehensive report, based on an examinee's performance on tasks during the assessment.
Summary
The ECAD® provides practitioners with an understanding of a child's relative strengths and weaknesses, and highlights the presence and severity of delays, all of which can inform early childhood interventions. When paired with the WIIIP, practitioners can access checklists to cull important qualitative data to accompany their assessment. The WIIIP further offers an extensive bank of carefully selected instructional interventions and recommendations that can be used to guide educational planning for examinees. These data are then all synthesized into one comprehensive report practitioners can use to share their findings.
For more information on the WJ IV ECAD® testing and scoring, check out this downloadable handout.