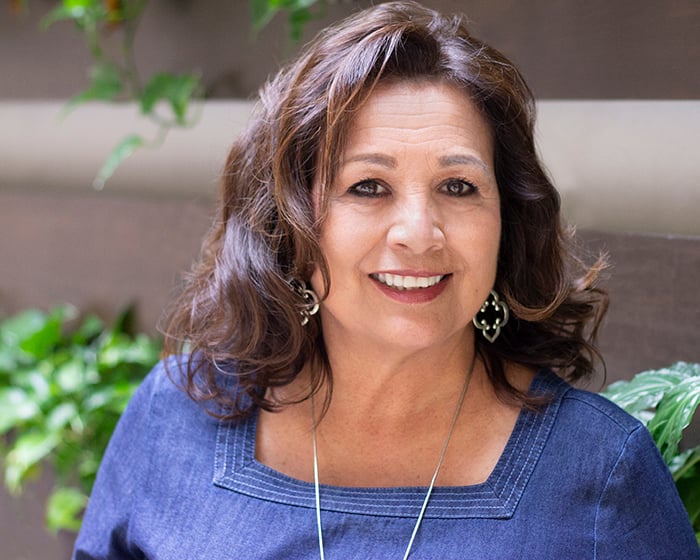 It is no secret that hybrid and remote learning models pose new challenges for educators, parents, and students alike. Families all over the country are adjusting to new rhythms and many are scrambling to create a suitable space in their homes that is conducive to online, at-home learning.
There is one particular group, however, that is disproportionately affected by the COVID-19 pandemic and its impact on education — English-Language Learners, or EL students, and their families.
How the Virtual Classroom Disproportionately Impacts EL Students
According to Chalkbeat, there are roughly 5 million English Language Learners in the United States. Without a solid foundation of the English language, remote learning poses unique challenges for these EL students, families, and their instructors.
While EL students are certainly coping with the social-emotional ramifications of at-home learning, they are also coping with learning barriers that are exacerbated by the inaccessibility of one-on-one instruction and the inflexibility of the virtual classroom.
Prior to the virtual classroom, EL students relied on pre-teaching lessons and one-on-one instruction from their teachers as a foundational component of their subject comprehension. This "front-loading" method of instruction relied on teachers to identify students who needed additional support and pull them aside for additional teaching, based on their distinct levels of language proficiency.
In a virtual classroom, this attentiveness to the needs of individual students is logistically complex and demands more than digital instruction allows. Even so, many teachers are feeling overwhelmed as they attempt to develop creative solutions to meet the needs of their EL students and close educational gaps that have been widened by remote learning.
4 Ways to Support Educators and the English-Language Learner Community
As we approach the new school year mindful of the challenges of virtual learning, here are some ways to tangibly support the goals of EL teachers as they care for their students and bolster EL families as they transition to remote learning: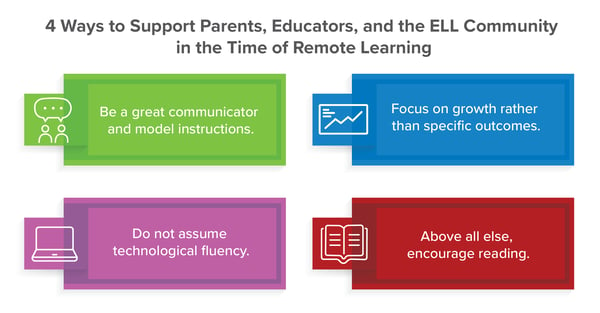 1. Be a great communicator and model instructions.
"All children benefit from explicit, planned, purposeful instruction, but students with English as a second language DEPEND on this instruction for them to be successful' – Jim Cummings, EL Specialist
Parental involvement in virtual learning is incredibly important in the developmental process of EL students. One of the most important ways parents, teachers, and student advocates can support the learning goals of students is by modeling instructions, over-communicating objectives, and giving students multiple channels for support.
It is important for students to have opportunities to hear, see, and read instructions so they can better absorb the information and understand their assignments. If you are a teacher, parent, or student advocate, consider having your students repeat back the instructions and re-teach the lesson to demonstrate their comprehension.
2. Focus on growth rather than specific outcomes.
While it is important to maintain high academic standards, EL students and families have several considerations that may impact the quality of their at-home learning. For this reason, it is important to be reasonable and demonstrate empathy, patience, and grace for individual students' circumstances.
Many students — particularly EL students — may not have a private or quiet space for learning, which could present a barrier to learning objectives. Additionally, many EL students cannot rely on their parents for educational support because their parents do not have the English proficiency or subject knowledge needed to assist them in their assignments.
According to a recent study by Latino Decisions, "65 percent of Latino families report that it is difficult to help their kids with on-line schooling because they are not familiar with the class subjects and assignments."
Additionally, the survey reported that 83 percent of primary caregivers of EL students are concerned that their kids will fall behind because remote learning does not afford them the same accessibility to one-on-one instruction and supplemental educational resources.
Finding diagnostic tools to help educators and parents understand the academic progress of their EL students like the Iowa Assessments™ parallel Spanish form Logramos®, or a language proficiency measure like WLMS™ III can help create a path for how parents and educators can partner to support student learning gaps.
Although Latino students do not represent the entire EL community, these statistics bring up important considerations for all EL students. While measurable growth is certainly possible in a remote educational setting, focusing on the overall trajectory of each student and celebrating small victories along the way is a much more effective approach than honing in on very specific outcomes to measure success for every student.
3. Do not assume technological fluency.
While technology expedites processes and creates a culture of convenience, it can also create barriers. Most EL parents and students are unaccustomed to relying on digital platforms to facilitate educational goals.
Technical glitches are to be expected and devices, while high in demand, are often limited in supply. It is important that parents feel empowered by educators so they can better understand how to help at home and how to navigate technological mishaps.
The recent study by Latino Decisions found that a third of Latino families in the United States do not have regular internet access at home and 37 percent of those who do have internet access in their homes can only access it through a cell phone.
This makes joining Zoom calls, completing assignments through online portals, and accessing the internet for supplemental research and context very difficult for a large percentage of EL families and students.
Ultimately, the success of EL students (and the success of their teachers) is largely reliant upon patience and empathy with new systems, processes, and technologies, and a willingness to make concessions for students who are falling behind due to reasons beyond their control.
It is incredibly important for teachers and parents to communicate effectively and ensure that their students feel connected so they are able to absorb new concepts and actively engage the learning process in a new environment.
4. Above all else, encourage reading.
"Children who read or are read to have a huge advantage over children that don't read books – particularly in terms of their expanded vocabulary. " – Dr. Sylvia Linan-Thompson, Vaughn Center, UT Austin
Reading is not only integral to intellectual development, but it is also the most successful method of acquiring a new vocabulary and mastering a new language.
Here are a few types of reading to encourage at home:
Choral reading: builds participation and normalizes reading out loud
Shared reading: creates an interactive and engaging experience around language
Silent reading: fosters independence and allows students to move at their own pace
Reading out loud: encourages students to sound out new words and phrases
Reading to each other: builds enthusiasm and makes reading a connective and engaging experience
Reading to their stuffed animals: establishes the student as the authority and creates an environment in which students are the masters of language
Opportunity in the Face of Adversity
While virtual learning certainly involves many potential challenges for EL learners, there are also several opportunities for collaboration and connection among teachers, parents, and students. Knowing how to engage this nuanced conversation can feel intimidating, but we are here to provide you with continued tips, techniques, and resources for support as you navigate this new educational landscape.
We Want to Hear From You!
If you are a parent or educator — particularly of an EL student — what would you add to this list? What would make you feel more supported as you adjust to this new learning environment? Let us know in the comments below!